Hi Tobias!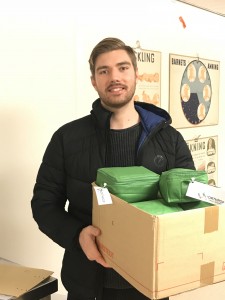 When did you start working here and what did you do before you joined us at NorthPop?
I started working for NorthPop during autumn 2018. Before that I was studying to become a dietitian at the university, which I am also still doing.
What are your main tasks within NorthPop?
I work with informing and inviting participants to join the NorthPop study, as well as driving around to the different childcare centers in the local area to collect samples for the study that participants have handed in.
What is your background? Any specific interest in NorthPop?
I heard about NorthPop when I was working at the paediatric unit as part of my degree studies. What really caught my interest was that they (among other things) are investigating how what children eat can affect their health and wellbeing. This sounded very interesting to me as I am studying to become a dietitian and also something I am likely to come in contact with in my future career.
How would you describe yourself?
A happy, fun-loving guy from Blekinge with an interest in food and exercise.