Hi Ida!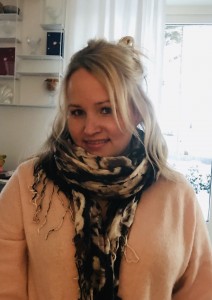 What is your background?
Before I started working with NorthPop about a year ago, I worked as a journalist for 10 years, and interesting and exciting job. But after a '30-year old crisis' I chose to change both my career and where I lived which resulted in dietary studies here in Umeå, followed by a job for NorthPop.
What do you do within the NorthPop study?
I mostly work with inviting participants to join the study, and collection of samples. When expecting parents come to the antenatal care specialist services for their routine ultrasound, I am one of the employees present who will inform them about the NorthPop study. I have had close to 1000 (!) wonderful and fun conversations with expecting parents!
How would you describe yourself?
As a fast-talking northerner. Which is often pointed out as a strange combination. I am a mother of two children who love the festive public holidays; Easter eggs, Christmas soda, dancing around the may pole – and everything in-between.
Anything interesting about yourself you want to share with us?
Despite by career and education I am not a particularly big fan of cooking; though I love to bake! Sourdough breads, cinnamon buns, biscuits and cakes, as well as more healthy baked goods. My freezer is always full!