Hi Suad!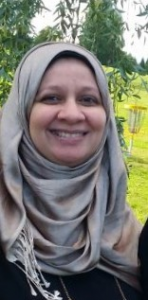 What is your background?
In my home country I studied to become an administrator, and when I moved to Sweden I started studying Swedish at Folkuniverstitetet 'The Short Route' and now I have a job as an administrator for Umeå University.
What do you do within the NorthPop study?
Within NorthPop my duties include archiving of referrals and delivery notes, packing sample materials for participants of the study to be able to take tests at home as well as registering incoming samples.
How would you describe yourself?
Happy and helpful. I continue to develop my working knowledge through learning more about the Swedish language and way of working as well as getting to know the culture and traditions
Anything interesting about yourself you want to share with us?
I am very sociable and like to meet new people. I have a husband and three children and we always come up with different things to do together.